04/10/2019 – Since 2009, Mali's authorities have been collecting disused sealed radioactive sources from around the country for safe storage in the capital, Bamako, with the support of the IAEA. Now, their attention is turning towards improving the security of the storage, to keep the sources, which are still radioactive, away from the hands of criminals.
"Any source that emits ionising radiation, even at the end of its useful life, needs to be kept safe," said Nagantié Kone, Director General of Mali's Radiation Protection Agency (AMARAP). "But we shouldn't forget that any such source must also be secure. The higher the activity of the source stored, the higher the risk of someone removing it in an unauthorized way."
In Mali, as in most countries, radioactive sources are used widely. To measure the moisture and density of the soil on which a road will be built, for example, construction workers use a special gauge that emits radiation. To see inside a patient's body, medical staff use diagnostic imaging with radioactive substances. Even gold mine explorers use radioactive devices: it is how they can tell if there is gold underground.
Storage in shipping containers
But where do these radioactive sources end up once they have reached the end of their useful life? For many countries with limited resources, building a facility where the sources can be stored safely and securely can be a stretch on resources. A few — including Mali — are opting for a solution that involves temporary storage in shipping containers, so-called ISO containers.
Mali's storage container was established back in 2009 with the support of the IAEA, which provided guidance and expertise to Malian authorities, including advice on safety requirements. Currently, the storage facility contains around 70 sources.
"This affordable option provides a good solution to the temporary storage of small inventories of disused sources," said Gert Liebenberg, a nuclear security officer at the IAEA. "By applying appropriate safety and security measures to ISO containers, these could provide the same level of protection as permanently constructed storage facilities."
The IAEA is now mobilizing resources to further strengthen the security of the Malian storage facility. Currently, guards are protecting it, round the clock. "The planned physical protection upgrades will provide additional barriers and levels of safety and security," Kone said.
The idea is for international experts to carry out a needs assessment next year and determine what security arrangements must be put in place. "We will focus on the physical installation of security arrangements: cameras, alarm systems, motion-detector lighting, temper-proof systems on doors that would prevent people from entering without authorization," Liebenberg said.
An expert mission to Mali, planned for next year, will evaluate what security upgrades and safety precautions should be put in place. "The experts will focus on the prevention of unauthorized removal of radioactive sources from the storage facility," Liebenberg said.
So far, Honduras, Madagascar and Mali are among the countries using ISO containers for the secure and safe storage of disused sealed radioactive sources. A consultancy meeting took place in 2017 after which experts developed guidelines for the safe and secure use of ISO containers as storage facilities.
What happens after storage?
Once a source has been recovered, authorities have three options. It can be re-used, returned to the supplier for recycling, or placed into temporary storage prior to permanent disposal. In many countries, radioactive sources are being stored because disposal facilities are not available.
Malian authorities have been developing the necessary nuclear and radiation safety regulations to ensure that imported sources are returned to their suppliers. "Producers do not always accept the disused sources," Kone said. "Which is why we are developing the right regulations to guarantee return. This is one way of ensuring radioactive source security and radiation protection for the public and the environment."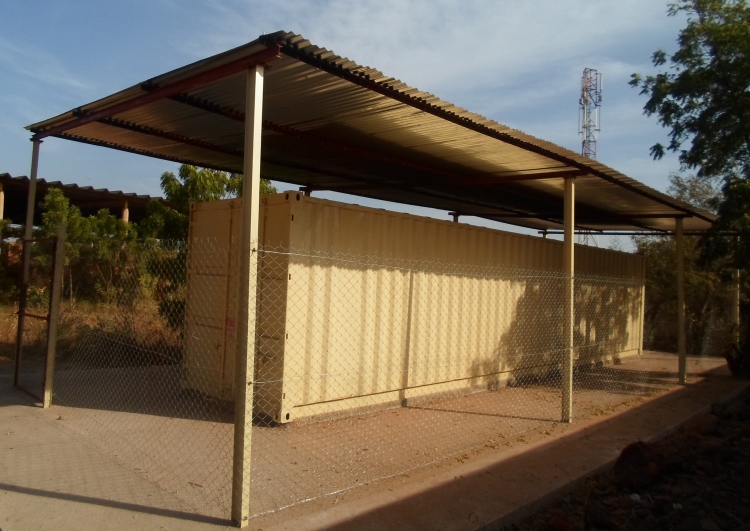 Mali is temporarily storing its disused radioactive sources in safe and secure shipping containers, so-called ISO containers. (Photo: IAEA)
IAEA
Sahel-Elite